Have you watched an online video today? If yes, you might be among the more than 50% of internet users worldwide already doing so on a daily basis. Over two thirds are watching a clip online every week. This statistically proven increasing trend can also be used in the eLearning sector.
Short videos can help to better deliver learning content. For this blog entry we have collected a few tips from our practical experience with using videos.

Where to apply?
Whether you use recorded speeches, presentations, seminars, re-enacted scenes or animations, videos can be used in very different ways:
To motivate:
as a teaser for learning campaigns

at the start of a web based training (WBT) to underline the importance of a topic (e.g. scene from a work routine, presentation by the CEO)

at the start of a WBT to emotionally activate learners

to tell stories that help build up expectations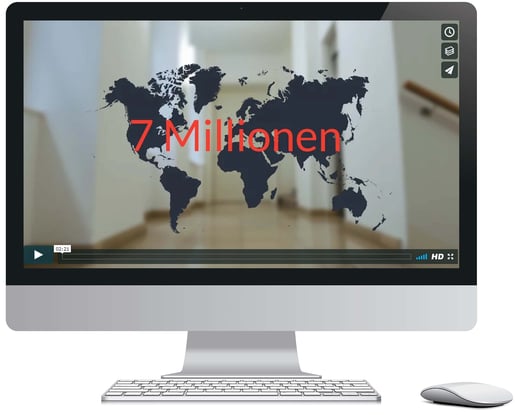 To explain and demonstrate:
videos that show a step-by-step breakdown of a complex process

videos demonstrating communication behavior (e.g. sales, leadership, intercultural competences). This way mimic, gestures and intonation can be demonstrated and understood more easily.

videos showing interviews with experts which are difficult to reach otherwise (e.g. because they are too far away or too expensive for a face-to-face event etc.)
To sensitize:
videos of scenes containing critical moments or elements. This way you can show to your employees how to detect such potential hazards at an early stage.
Target group orientation
Once you have decided how to best use a video, you can move on to the next steps: narrow down the target group and assess its needs.
In general it can be said, that a video used in the eLearning segment should only be three minutes long at maximum. On average internet users are even spending less than a minute on an online clip. After ten seconds they already decide whether or not to continue watching.
The major advantage of videos is that you can present comprehensive content to your employees in short and descriptive bites. But a video can also lead to "passivity". It should never be used as the only tool and can be combined with interactive elements (quizzes, feedback, practical exercises etc.) This also helps to avoid an overstimulation from too much video input.
Speaking of interaction: It is important that users can control the videos to ensure every learner can watch them at their own speed or "rewind" if necessary.
Already when drawing up the concept for the video you should consider whether e.g. it will have to be multilingual or produced with subtitles. In this latter case, space for the words has to be calculated into the picture frame.
With markings, verbal notes in a voice-over, frozen pictures or by repeating a sequence a learner's attention can be directed to certain features.
After a two- or three-minute video there should be a summary to give learners the opportunity to recap what they have seen.
Production
You should not underestimate the effort involved even in short videos: For a two-minute video a few hours of planning, shooting and post-production have to be calculated. But these expenses will usually pay off via positive learning effects, satisfied employees and video material with a wide range of uses.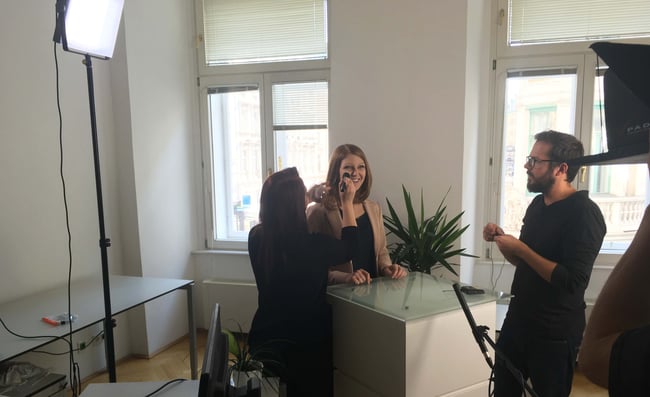 In case the speakers in your video are no professional actors but e.g. your employees you should ensure that they get the texts well in advance. You can then brief them in detail on the background of the shooting. You should also take some time to go through the texts with them several times to ensure pronunciation and punctuation are clear and correct.
From our experience and a technical point of view we recommend considering the following:
Which video format is needed?

On which devices will it be used?

For realistic videos you should consider actors, location, light, camera, audio recording and cutting.

Are subtitles or a transcript necessary to ensure barrier-free design?

Is it necessary to compress the video or produce a version with lower quality to ensure smooth transmission?
Conclusion:
There is still very little scientific research on the use of videos in eLearning. From our experience we can say that this medium is successful if used correctly.
Videos can be used in very different areas.

Short, concise delivering of content without irrelevant content.

Maximum length: 2-3 minutes.

Costs and effort in production.

Considerable time saving for the learners.

Increase attentiveness through interaction.
By the way, in a survey almost 60% of senior leaders in companies said they would rather watch a work-related video than read a text on the same topic. And if the management level admits to this then the percentage for employees can be assumed to be at least as high.
You are planning on also using videos in an eLearning environment? But you are not quite sure how? We are happy to support you in drawing up a concept and implementing the strategy.