At the beginning of the year, Totara Learning announced a new version release. Not only is it containing major changes but also bearing a new version name. Sure enough, this decision ist no big suprise. As the new version naming is a result of Totara Learnings decision to further step away from Moodle.

Totara, as an open-source learning management system is committed to evolve and improve according to the needs of its users. With rapidly developing new industry standards and the corporate learning market wanting to see them in the LMS, it was time to make some changes and do some things different from Moodle.
The long awaited Totara 9 is now available, featuring the promised features and enhancements to a fast growing community of developers, managers, trainers and learners. Here is a short overview of what to expect from Totara 9:
The New Seminar Management
In the past we had a lot of requests to develop features, making room management easier, adding resources like beamers and laptops and map routing. Totara 9 offers all of that as a standard feature.

Resulting in a better and more efficient control over seminars for

learning administrators. The new navigation structure makes it easier to manage each event more precisely. With the new version you are able to:

...add more options for your participants at signup
...select the needed equipment for each date.
...give directions to your event with the built-in Google maps custom field.
Look and Feel
One of the main reasons to part with Moodle was the need for a completely new and more flexible design feature. The new default theme with font based icons, makes it even easier to adapt to your company's branding. It also incorporates current theming standards and is fully responsive.
Multiple job assignments
There are a lot of real-life examples, where a person is having multiple job assignments within a company. Up until now we struggled to map that in Totara LMS. The new functionality allows users to hold any number of custom job assignments. With each job optionally linked to a 'Position',' Organisation', 'Manager', 'Appraiser' and/or 'Temporary Manager'. Now we have the ability to nominate a different line manager for each job assignment, thus providing a better structure for reporting to the right persons.
New blocks
The easiest way to customize the navigation and to fit it to your needs is via blocks. They allow us more flexibility on each page, providing the learner with the information he needs most. Totara 9 offers two new major blocks:
'My Current Learning': easily access the content you, as a learner, should be currently working on.
'Last Course Accessed': access the course you were working on most recently.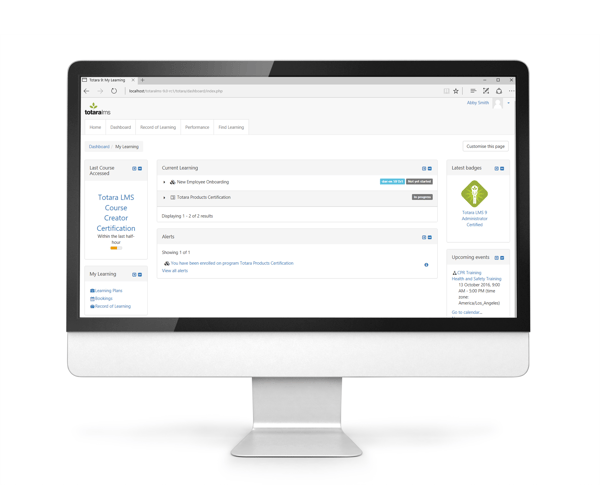 Sharing of eMails
Does your company have pool accounts with people sharing the same email? Now administrators have the option to decide if users share email addresses, regardless of how the account was created.
New types of quiz questions
Administrators are now able to use a greater variety of quiz questions. Use drag and drop for the learner to fill in words or images, for example. This is a major improvement in user experience, allowing us to easily structure quizzes and to better design the learning paths.
New release process - Totara Evergreen
So far, the LMS brought us an annual release with the newly developed features, which meant that you sometimes had no access to them for almost a year. This approach could lead to additional cost for clients - say if they invested in a custom feature being developed in parallel by Totara but not available before the yearly release.
The new Totara Evergreen release process overcomes this issues and brings us unprecedented access to new features, starting with a monthly release schedule. In a follow-up post we will describe Totara Evergreen in detail so - stay tuned!
To sum up - Totara 9 brings a lot of new features clients and users wanted to see in the LMS but also functionalities that allow for more flexibility, making Totara LMS even more intuitive.

Now we are waiting for the next version of Totara Social, coming soon and promising great features, making further steps towards the integration with the LMS.
If you have any questions about Totara 9 let me know in the comments.