We are delighted to announce that LearnChamp has been named Totara's 2021 European Top Seller.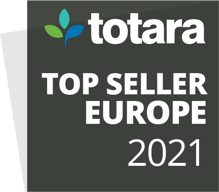 The Totara Partner Awards recognise the most successful partners across the global Totara Partner network, with a special focus this year on the new Totara Talent Experience Platform (TXP).
As European Top Seller we are based in Vienna and have Totara customers such as Ziehm Imaging, SPAR, MED-EL, Croma-Pharma, National Anti Doping Agency and the European Alliance of Associations for Rheumatology (EULAR).
"Congratulations to the whole LearnChamp team for their success within Europe, particularly the DACH region. They have harnessed the power and versatility of the Totara platform to deliver truly outstanding learning and talent development experiences for the customers. Together, we can look forward to continued growth in the year ahead." - Richard Wyles, CEO at Totara
Michael Repnik, Managing Director at LearnChamp says: "The award goes above all to our awesome customers that implement engaging learning portals with LearnChamp and Totara. We would also like to thank our long-term partner Totara and its Talent Experience Platform, which continues to impress with its many functions, flexibility and convincing price level. We look forward to many more Amazing Learning Experiences."
With 20 years of L&D experience we are committed to delivering amazing learning experiences to customers throughout the DACH region and beyond.
The European Top Seller Award follows two Best Project Awards, with EULAR winning the Best Healthcare Project in 2018 and National Anti Doping Agency winning Best Nonprofit Project in 2020.
For the full list of Totara Partner Award winners, visit the Totara website.