End of January is the time when the e-learning industry packs their bags to present their work, meet current and potential clients as well as colleagues at two of the major events in Europe: LEARNTEC (Karlsruhe, Germany) and Learning Technologies (London). This year, both took place on the same date. We dispatched two teams and pooled our impressions and ideas after our return. Where is the world of digital learning heading for?

VR&AR after the big hype
While in recent years we saw a keen interest in VR and AR, to us it seemed that this year neither technology was overly present at the exhibitions. From GoodPractice's podcast review of Learning Technologies I learnt that they had seen quite a few good applications of AR and VR, though. They concluded that L&D has a much better understanding now how AR and VR can enhance learning.
Here to stay: LMS, xAPI and Badges
An e-learning veteran is still around: the LMS. Despite countless obituaries, we found the LMS still pretty alive and kicking. New breeds are evolving (Bersin classifies "Learning Experience Platforms", "Micro Learning Platforms", etc.) and material design has finally become standard. Moreover, LMS in the cloud is now the default. We were surprised not to see more substantial applications of xAPI. xAPI has been around for more than five years now. Since we see great interest in informal learning and content curation, we expected to see more applications of xAPI. Many LMSs now include badges. "If you don't have a badge strategy – you need one," IBM's James Cook boldly claimed in a talk at the Learning Technologies Conference. That was our impression, too: badges are all the rage. We would recommend not awarding badges because they are included in the system, however, but developing a sound badge concept based on a didactic and talent strategy.
What is all the fuss about machine learning, AI and chatbots?
At the Learning Technologies Conference I focused on machine learning and AI. In his opening key note, Rohit Talwar (Founder & CEO of Fast Future Research) presented these trends as the major disrupters for all industries. Yet, from what I heard in talks by Microsoft and IBM, the solutions for L&D are not that sophisticated yet. Microsoft's Nigel Willson shared a useful tool for keeping videos sorted. Video Indexer allows you to automatically assign metadata to your videos, such as speakers and keywords. It even creates automatic transcripts and translations.
One application of machine learning is natural language processing and hence the basis for voice user interfaces (VUI), the next frontier. From our everyday "conversations" with Siri, Alexa and Co. we know how these assistants can make navigation easier and quicker. Yet, we still have got some work to do before we will hear an Alexa greeting us when accessing an LMS or when we are stuck with Excel.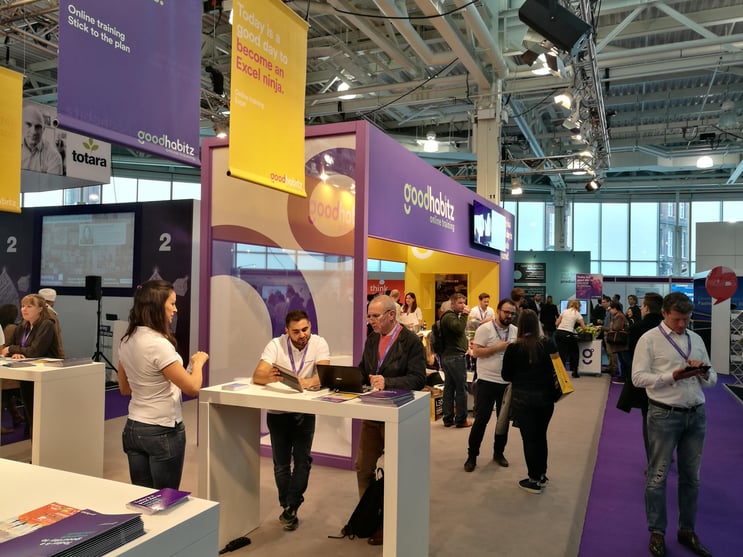 Chatbots are an intermediate step into that direction. At the exhibition, Learning Pool presented "Otto", a chatbot that "pushes course enrolment notifications at the learner and responds to a set of LMS-like commands, such as 'what courses do you have?'". The idea is that Otto acts as an "invisible LMS". "Living" in a collaboration tool, Otto helps to blend learning and work more easily and to provide performance support more swiftly. Currently, integrations with Slack, Workplace and MS Teams are available. Other use cases of chatbots for L&D include sending reminders and polls to learners as well as coaching (e.g. by asking questions for reflections or sending daily reinforcements). Many chatbots now replace FAQs. Nigel Willson showed us Microsoft's QnA Maker, which automatically extracts questions and answers from FAQs and turns them into a chatbot. Wouldn't that be wonderful support for your LMS implementation? Or for parts of your onboarding program?
Automation
≠ AI
However, QnA Maker is not a case of machine learning and AI but "simple" automation. The system does not learn from customer (or learner) interactions. If you want to train the chatbot, you will still have to look into real client interactions, see where they broke off and enter appropriate bits of conversation. Over time, the chatbot will have a decent base of interaction options but, as I wrote: You will have to compile the answers for the chatbot. The machine does not "learn" by itself. And this is something we saw repeatedly: Many people talked about AI when in fact what they meant was automation. This adds to the buzz around AI but does not advance our understanding of the tools and their potentials.
"Being human may be the key differentiator for businesses in the next years" - Rohit Talwar
A quote from Nigel Willson stuck with me. He said: "Learners don't want automation. They want personalization". Customization is not a new trend in products and services. Yet, it still is for L&D. It is great if technology can enable that everyone gets the individual support they need in the workplace and grow further. One reason why digital assistants and especially VUI see such quick adoption, however, is also because they address the basic human needs for communication, for feeling connected to other people and, ultimately, for being seen by others. Chatbots and VUI cater to these needs by simulating human interaction.
We do not only live in an age of automation but also in an age of simulation. Maybe that is why "authenticity" is so much talked about. In his keynote on "Emerging Technologies" at the Learning Technologies Conference futurist Rohit Talwar stated that "being human may be the key differentiator" for businesses in the next years. Automation and digitalization may be a profound opportunity for L&D and HR, as Rohit Talwar stressed: L&D could be "the central function in organizations" to prepare people and organizational culture for the changes of digitalization.
If "being human may be the key differentiator" for businesses, L&D and HR as the "people experts" could make quite a contribution. "Being more human" could help to set L&D and HR apart within organizations, which are more and more driven by technology. More importantly, L&D and HR could help to make our entire organizations more human. In your view: What would "being human" mean for L&D and HR? What tools would we need for this? I'd be happy to receive your ideas.
Thanks go out to Georgi, Jenny, Luisa, Stefan, and Tom for sharing their impressions of the events with me.