Last week we met in Vienna for two days filled with latest developments of the responsive e-learning tool Adapt and inspiration for mobile learning design.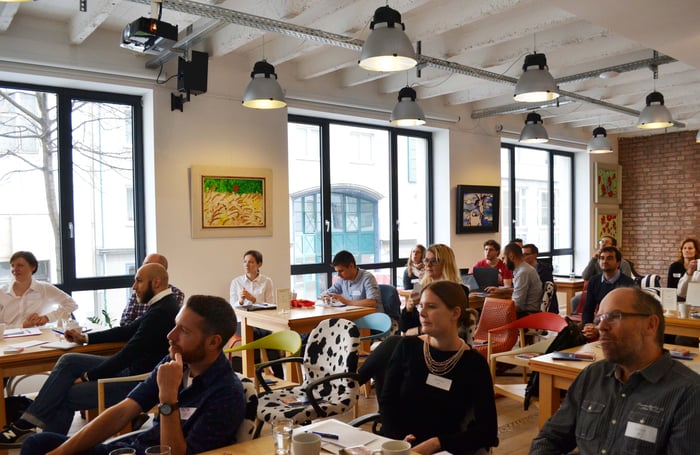 Adapt is a free, open-source tool for creating responsive e-learning content. It took its first steps in 2013. Today, already 2 million people learn with courses built with Adapt – world-wide. Adapt is available as a framework and as an authoring tool for users who want to create courses but do not have coding skills.
As an open-source tool, Adapt is being built by a community of developers. Anyone can contribute with their skills from all over the world. This community is connected through an online forum as well as Github. After a first meet-up in London in the beginning of 2017, now LearnChamp as a contributor to Adapt wanted to take the event to Vienna and make Adapt better known in Central Europe. Our idea was to connect developers, course creators, usability experts, and L&D staff not only digitally but also personally. We wanted to facilitate a dialogue and learn from diverse perspectives in order to take Adapt to the next level.
And they all came! About 40 people met for a diverse program. Pete Smith, Technical Lead at Kineo, introduced Adapt as a project, its scale and current status. Tom Taylor, developer at Kineo, gave an overview of the development of Adapt. He showed us latest features such as user and asset management and gave us a glimpse at what lies ahead: multi-tenancy. Also multi-language courses can be created efficiently with Adapt as Thomas Berger, developer at LearnChamp, demonstrated.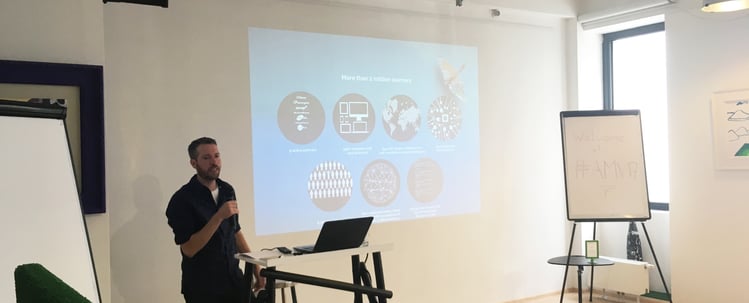 Beyond core components such as the accordion or multiple-choice questions, 153 plug-ins are already (freely!) available to make learning even more interactive. Three LearnChamp developers, Thomas Berger, Jan Drenkhahn and Alexander Benesch, presented a number of plugins that we created, among them a memory game and flip cards. To ensure that Adapt courses as well as the authoring tool are geared to users' needs UX expert Wolfgang Zeglovitz (datenwerk) gave us an overview of methods for user testing.
Day 2 focused on instructional design and individual projects. Together with Developer Thomas Berger, one of our Learning Designers, Luisa Kraft, presented great, interactive courses that LearnChamp had built for clients with Adapt. Pete Smith shared a project in which Kineo had used xAPI for tracking Adapt courses. GoStudent's founder Felix Ohswald showed us how chatbots and a conversational approach can enhance learning. Finally, LearnChamp Learning Designer Paul Pirkelbauer presented how he had used animations in Adapt courses.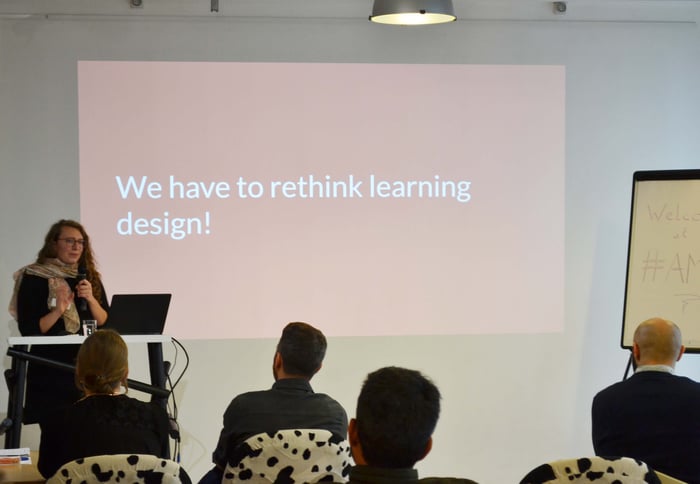 "You want to be in conversation with users," Wolfgang Zeglovits advised us in his talk. That is something we already put into practice at the Meet-Up: Developers, course designers, and L&D staff had lively and inspiring conversations in between presentations and in the evening over Glühwein at Vienna's picturesque Spittelberg Christmas market. We found more inspiration for course designs and collected new ideas for the development of Adapt. At the beginning of the Meet-Up we had put up a wish list to collect participants' ideas and needs for further developments of Adapt. By the close of the event, the list was well-filled. Seeing the community at the Adapt Meet-Up, we're sure that the tool is well on its way and we're excited about what lies ahead.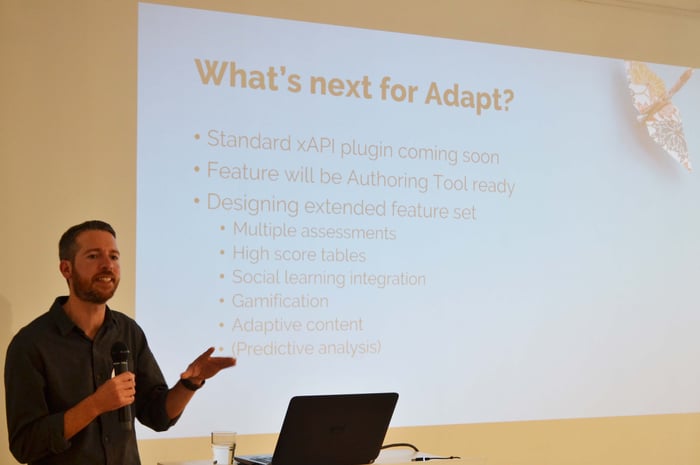 Would you like to see some of the courses, animations and plug-ins we shared at the Adapt Meet-Up? Get in touch with us and make an appointment for a demo.